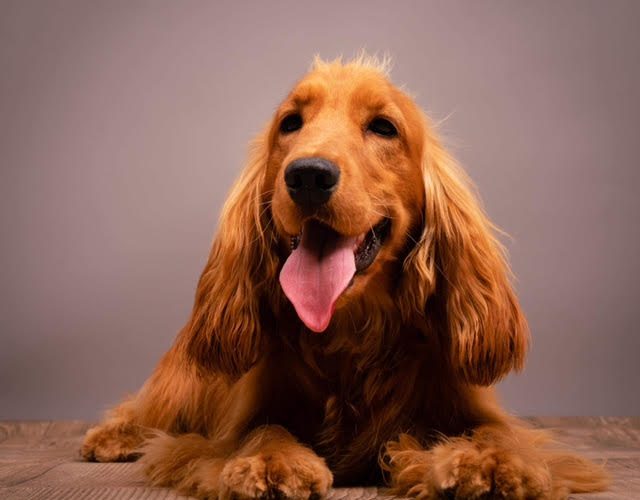 Ferris – KC Registered Golden Show Cocker Spaniel – £300
Ferris
(Warburtons Diamond Daniel) is KC registered, a great useful medium size dog. Golden Show Type Cocker Spaniel with over 13 CHAMPIONS within his pedigree. The breed average for COI is 10.7%, Ferris's COI is 2.9% , this means there is almost no inbreeding / line breeding within his pedigree which is exceptional.
Ferris were bred by one of the most up and coming studs in the north of England.
Ferris is extensively DNA health tested, his test results are as follows;
 * Progressive Retinal Atrophy (PRA-prcd) Clear
*Familial Nephropathy (FN) Clear
* Acral Mutilation Syndrome (AMS) Clear
He has been sperm tested and is currently producing 520 million spermatozoon per ml, on average he produces 4-6 ml per mating.
Ferris has a short undercoat and a fine topcoat. His top line coat is slightly wavy and is luxuriously silky in texture. He's heavily feathered on the legs, body, chest and ears.
He's often chosen for his positive and happy disposition outlook on life. He's a real fluid and loose mover with an abundance of adventure. He's extremely intelligent, you only have to show him something once and he gets it.  Ferris has to be the centre of attention, it's hard for him not to be with such an adorable, kind temperament. He's trustworthy around any member of the family and other dogs etc. Brilliant on and off the lead with an easy trainable attitude. He's a noble & delightful boy, and offers lots of love and affection for anyone who he comes into contact with.
Breeds you can cross a cocker spaniel with;
Toy Poodle (Cockapoo)
Miniature Poodle (Cockapoo)Standard poodle (Cockapoo)
Labrador (Spandor)
Cavalier King Charles Spaniel (Cockalier)
Golden Retriever (Golden Cocker Retriever)
Pomeranian (Cockeranian)
Pit Bull (Spaniel Pit)
Shih Tzu (Cock-A-Tzu)
Dachshund (Docker)
Beagle (Bocker)
Border Collie (Collie Cocker)
Bichon Frise (Cock-A-Chon)
Dalmatian (Cockertian)
Siberian Husky (Siberian Cocker)
Jack Russell (Cocker Jack)
Maltese (Silky Cocker)
Springer Spaniel (Sprocker)
Boxer (Cocker Boxer)
Schnauzer (Schnocker)
Flea, wormed, vaccinated and microchipped up to date, fully groomed and regularly walked.
AI only, 48 hours apart , after first mating you will receive a stud contract, copy of his KC pedigree and a copy of all his health tests.
We are very flexible as to times and dates. It is best to book in with us as soon as possible to ensure Ferris is available and not at rest (we do not over use him and we do ensure he gets his rest periods between mating's) so we ask clients to give us a ring to book their appointment as soon as they notice their girl in season. However we CAN often accommodate short notice mating's and often have clients call us when they have been unsuccessful with other stud dogs elsewhere so it's well worth giving us a call.
All visiting girls must be wormed, flea treated and vaccinated up to date.
All costs for Cytology, AI and studding are included in the one-off stud fee of £300. There are no further costs incurred or involved for your visit. The stud fee is to be paid on the first completed Artificial Insemination of your girl.
***Artificial Insemination only.***
Chilled semen shipped anywhere within the UK, £400 (this includes the transport box etc) plus postage costs.
If your girl fails to be pregnant then you will be entitled to a free mating on the same girl within the next 12 month period.
A vets report will be needed for confirmation purposes. The report will need to be issued from your vet 7 days before the original due date to receive your free mating.
Ferris & His Puppies