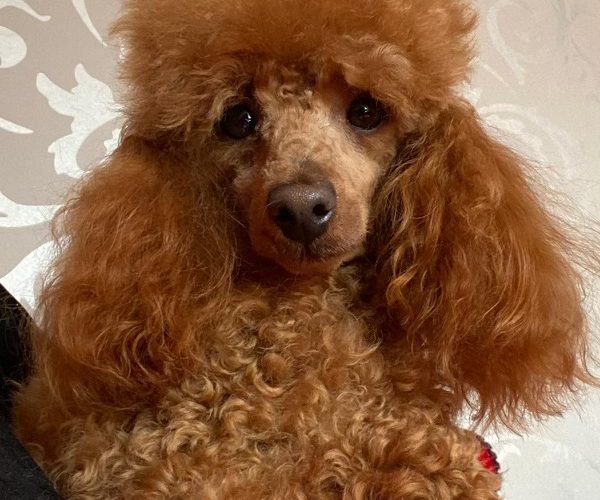 Brandy – KC Registered Toy Poodle – £250
Brandy – KC Registered Toy Poodle – £250
Brandy (Kentwone Falling Raindrops Donami) is a KC registered, proven (some pics of his puppies are on this advert) 8.5 inch (21.5 cm) to the shoulder Red Toy Poodle who has over 16 European / Russian CHAMPIONS within his pedigree. His COI is only 4.5% Brandy is extensively DNA health tested, his test results are as follows;
Progressive Retinal Atrophy (PRA-prcd) Clear
von Willebrand Disease I (vWD1) Clear
Progressive Retinal Atrophy (PRA / LOPRA -rcd4) Clear
Gangliosidosis Variant 0 Sandhoff Disease (GM2) Clear
Neonatal Encephalopathy (NE) Clear
Degenerative Myelopathy (EXON 2)
Clear He has been sperm tested and is currently producing 425 million spermatozoa per ml, on average he produces 3-5 ml per mating. Brandy has a single coat of extremely dense curly fur. He's often chosen as he's hypoallergenic since poodles barely shed at all. Lovely look at me active movement, with an intelligent outlook.
He has a real "I'm Here " attitude, excellent temperament around any member of the family and other dogs. He's well-behaved with good manners and a sunny disposition. Brilliant on and off the lead with an easy trainable attitude. He is a delightful little chap full of love and affection who adores attention from strangers who regularly stop him for a fuss and compliment him on his colour and good looks. We have had stud dogs for many years and I've never come across a truer type and fine example of a red toy poodle at public stud than Brandy, he's a real rare find.
Flea, wormed, vaccinated and microchipped up to date, fully groomed and regularly walked. AI only, 48 hours apart , after first mating you will receive a stud contract, copy of his KC pedigree and a copy of all his health tests.
We are very flexible as to times and dates. It is best to book in with us as soon as possible to ensure Brandy is available and not at rest (we do not over use him and we do ensure he gets his rest periods between mating's) so we ask clients to give us a ring to book their appointment as soon as they notice their girl in season. However we CAN often accommodate short notice mating's and often have clients call us when they have been unsuccessful with other stud dogs elsewhere so it's well worth giving us a call.
All visiting girls must be wormed, flead and vaccinated up to date. All costs for Cytology, AI and studding are included in the one off stud fee of £250. There are no further costs incurred or involved for your visit.