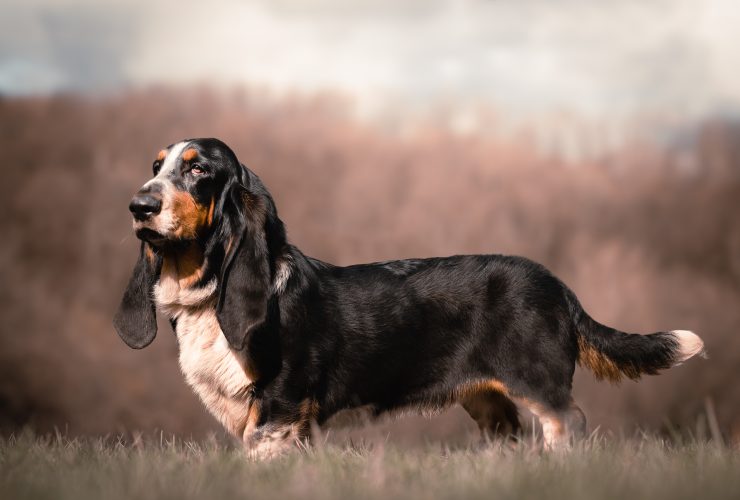 Bertie – KC Registered Basset Hound – £450
 "Bertie" KC Registered Basset Hound.
The co-efficient breed average score for Basset Hounds are 8.7%, Bertie has a COI of just 0.3%, this
really is top draw and exceptional breeding from the kennels point of view.
Bertie's possess great confirmation, with short legs of considerable substance, he would easily be
able and capable of great endurance in the field as is his true purpose. Well laid-back shoulder
blades but not heavy. Bertie has short powerful forelegs with great bone. His elbows turning neither
in or out but fitting in neatly against his side, the forearm inclined slightly inwards but no such an
extent to prevent free action.
His long and deep body throughout length, breastbone prominent but chest neither narrow nor
unduly deep. He has adequate clearance between the lowest part of his chest and the ground to
allow him to move freely over all types of terrain. With his ribs well rounded and sprung, without
flange, extending well back.
Bertie's temperament is sweet tempered, very affectionate with I'm here attitude and loves being
centre of attention. A really friendly and devoted gentle chap are his outlook.
Flea, wormed, vaccinated and microchipped up to date, fully groomed and regularly walked. **AI only**, 48 hours apart , after first mating you will receive a stud contract, copy of his KC pedigree and a copy of all his health tests. We are very flexible as to times and dates. It is best to book in with us as soon as possible to ensure Bertie is available and not at rest (we do not over use him and we do ensure he gets his rest periods between mating's) so we ask clients to give us a ring to book their appointment as soon as they notice their girl in season. However we CAN often accommodate short notice mating's and often have clients call us when they have been unsuccessful with other stud dogs elsewhere so it's well worth giving us a call.
All visiting girls must be wormed, flead and vaccinated up to date.
All costs for Cytology, AI and studding are included in the one-off stud fee of £450. There are no further costs incurred or involved for your visit. The stud fee is to be paid on the first completed Artificial Insemination of your girl.
***Artificial Insemination only.***
Chilled semen shipped anywhere within the UK, £550 (this includes the transport box etc) plus postage costs.
If your girl fails to be pregnant then you will be entitled to a free mating on the same girl within the next 12 month period.
A vets report will be needed for confirmation purposes. The report will need to be issued from your vet 7 days before the original due date to receive your free mating.