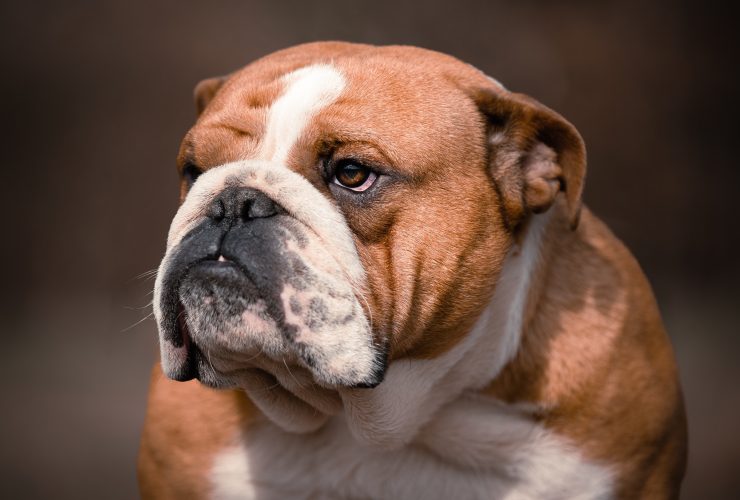 Ronny – KC Registered Standard British Bulldog – £350
Ronny – KC Registered Standard, Red & White British Bulldog
Gorgeous Traditional Standard British Bulldog from successful showing lines.
Bred by one of the most thoughtful & conscientious studs in the country with an eye for detail on preserving the breed standard and characteristics of a true British Bulldog.
Ronny has lovely short legs and is compact, a great example of the breed. A truly stunning evenly marked healthy boy with clear eyes and wide-open nostrils. Ronny possess a quality brick shaped head with a very correct upsweep off jaw. He has a well set on top line with substance & great athletic movement coupled with a straight mobile tail. He has an excellent temperament which he loves to be fussed over and is a great family dog.
Both Ronny's parents were both fully health tested, HUU clear and both passed their British Bulldog Breed Council examination. On top of this both parents are health tested for BOAS which they both passed with flying colours scoring an outstanding BOAS grade of 0, Patella 0/0.
Ronny's dam (Princess) is a red & white bulldog who was successfully shown by the amazing Britishglory Stud who take a huge amount of pride in their showing career & breeding the healthiest of dogs for their kennel where the beloved dam came from. Princess (Ronny's mum) has beautiful open nostrils good bone structure excellent & sound movement.
The sire to Ronny was imported from a champion show kennel in Spain who won many shows here in the UK.  He also passed all his health testing. He is white in colour with the correct black pigmentation. Both parents only carry the correct breed standard colours in their bloodline they do not carry any non-breed standard colours (nbs) which is very un-desirable for this breed.
Ronnie is health tested for the following –
Cystinuria Type III – Clear
Degenerative Myelopathy DM – Clear
Hyperuricosuira – Clear
Canine Multi-Focal Retinopathy CMR – Clear
All visiting girls must be wormed, flead and vaccinated up to date.
All costs for Cytology, AI and studding are included in the one-off stud fee of £350. There are no further costs incurred or involved for your visit. The stud fee is to be paid on the first completed Artificial Insemination of your girl.
***Artificial Insemination only.***
Chilled semen shipped anywhere within the UK, £450 (this includes the transport box etc) plus postage costs.
If your girl fails to be pregnant then you will be entitled to a free mating on the same girl within the next 12 month period.
A vets report will be needed for confirmation purposes. The report will need to be issued from your vet 7 days before the original due date to receive your free mating.